Invest in US Stock Market From India-Global Investment Guide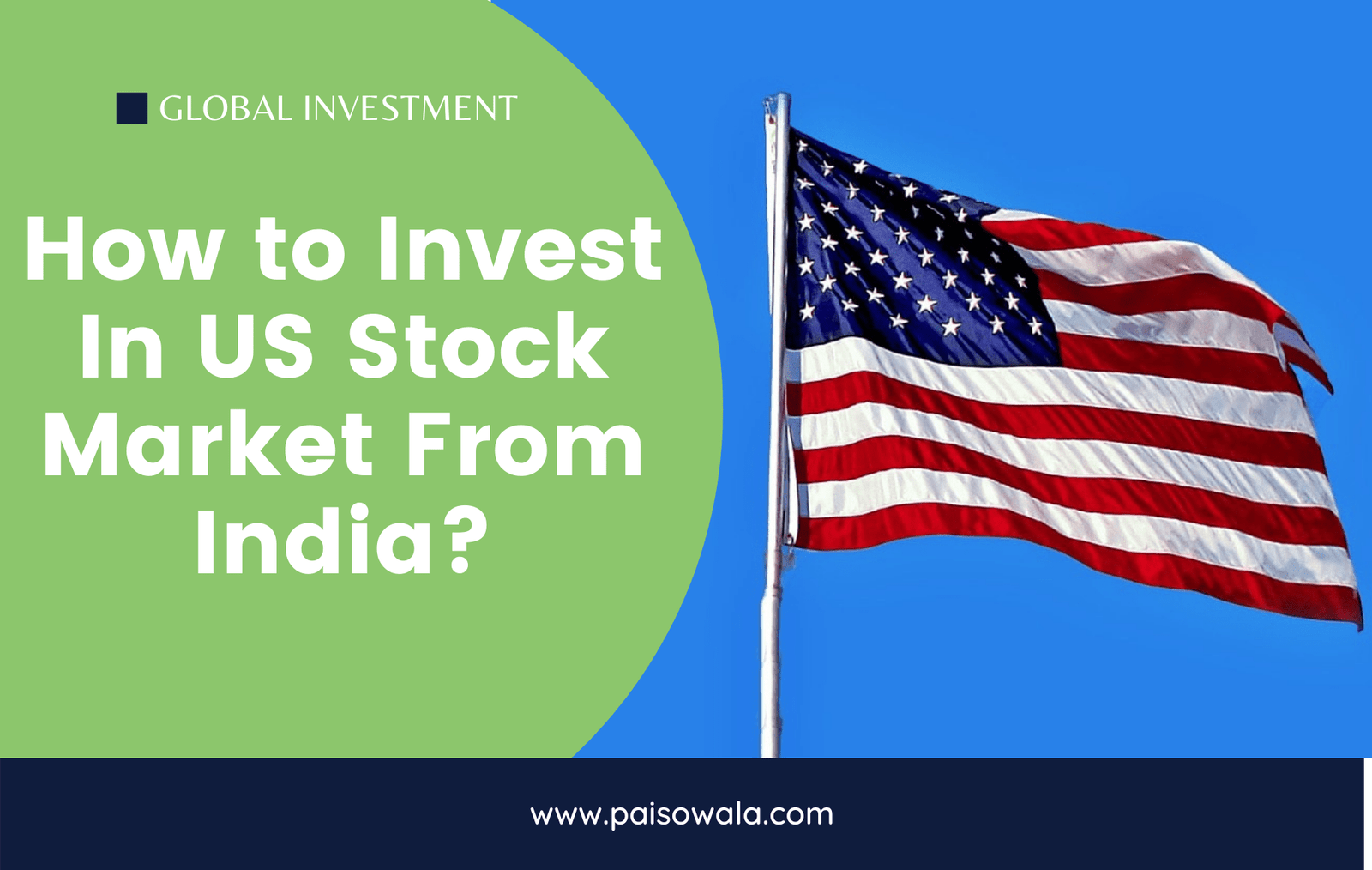 Notice: Undefined index: align in /home/u662305827/domains/paisowala.com/public_html/wp-content/plugins/rehub-framework/gutenberg/blocks/class-titlebox.php on line 44

Notice: Undefined index: align in /home/u662305827/domains/paisowala.com/public_html/wp-content/plugins/rehub-framework/gutenberg/blocks/class-titlebox.php on line 44


Hey, Buddy, You are most welcome here. In this article, we are going to cover your all doubts regarding how you can invest in Foreign Stock Market like the US, UK & other countries' stock markets from India.

Even if we are not in the investing business or stock not even in the Indian stocks market. But it comes to everyone's mind that how good it is if invest in US stock market & we have stocks of the company of which products we are using on an everyday basis.
Investing in Foreign Market
Due to the vast development in technology, it is easy to invest in Foreign Stock Market favorite Brand's company. You can easily invest in companies like Apple, Google, or any other famous listed company you want to invest in your money.
But the problem is the foreign companies are not listed in the Indian stock markets.
So it's not that simple to invest in Stocks of United States (USA stock market but it is not that much impossible kind of thing that people are thinking it, even it is not hard at all because of technology you can say it is as much easy as you invest in Indian stock market.
Benefit of Investing in the US Stock Market
Before going to tell you about the benefits of investing in the US stock market I want to tell you about the Indian stock market.
There are about 5500 listed companies in the Indian stock market and India is one fastest-growing economies. So, Indian stocks will definitely not bad choice to invest in so try Indian companies first then you can definitely head towards looking at the foreign stock.
Sorry for off the topic things but these are necessary information for everyone to know about.
If you are reading this post that means you are concerned about investing in the US stock market but let me first tell you about the benefits of investing in the US stock market because that will motivate you more towards your goal of having shares in the United States stock market.
Pros Of Global Investing:
The low-risk factor is there in Investing in the foreign Stock Market. Let's understand this by a simple example. Suppose Google, Having great professionals like Sundar Pichai and all their team members are highly capable of doing anything in the field of technology.
Companies like Google or Apple have a lot of cash in hand as compared to some other companies in the world and they have a lot of future capabilities and scopes to grow on.
So, there are very few chances of these company's shares value to touch the ground. Small fluctuations will be there but not huge differences in their prices of stocks so there is a very less amount of risk as compared to some startups or you can say small companies in India.
So investing in big companies you have the surety that your amount will never be zero and it's like investing in a savings account or you can say mutual funds that will be better.
You will get more diversification while investing in foreign markets suppose there is a crash in the Indian Stock Exchange any Bear or Bull.
Or sudden crisis can be there.
But if you are also dealing in foreign stocks then your all hopes are not dead. You still have some choices of Investing your spare money in foreign stock exchanges.
Increase the Number of choices
This point is slightly matching to above mentioned "Diversification". But only slightly. Diversification can be understood in a technical way and having more choices is a General aspect.
Having more choices is always better than having limited choices, So if you are trading outside India then your available companies are not only limited to 5500 (available number of companies to the Indian Stock Market.)
So trading in the foreign Trade market will give you more freedom to choose by comparing the future aspects of return from both the Indian as well as the United States Market.
Benefit from Currency Exchange Rates
A special note is that this point is also available in the limitations. But I explained both the aspects, So just give it a read and all will be clear to you. US stock market has outperformed the Indian stock market over the last 10 years in dollar terms.
Let's understand this point through an example:
Suppose, you invested in any of the venture/Companies at around 2010 year and at that point of time you got the Currency Exchange rates were as follows 1 $= 50 INR (Around).
And now if you are thinking to disinvest & want to withdraw your money from the US stock market. Now Currency rates of now are around 1$= 70-75 INR.
So there is no matter that you got losses or profit from the stock market what you are getting is more Indian Rupees compared to what you brought for the Share of a US company.
Limitations of Investing in Foreign (US) Stock Market
Cons Of Global Investing:
As per the rules of the Reserve Bank of India, an Indian resident individual have the right to invest only to $250,000 out of India.
As per nowadays, the currency exchange rate of United States of America to India $250,000 are around 1.8 crores Indian rupees so you can individually invest only 1.8 crore rupees as per rules for individual investment but if you want to invest more, you have to you take help of your family or friends so that you can invest from there details.
Issue of CER(Currency Exchange Rate)
This point is already there in benefits of Investing in the Foreign stock market so please quote me on this before reading the below-given statement or explanation.
Investing in stocks is having a risk on its own but investing in foreign stocks is like holding another kind of risk. As there are always fluctuations in share prices of companies in all the countries.

Let's understands this by taking an example: If you invested in Apple so you are bearing a risk that Apple's share price can fluctuate anytime so that will be your first risk and the second one is that anytime the currency exchange rate of United State America with India can also be fluctuate. If you invested at 70 rupees at $1 and you want a Disinvestment from your company e then you will get the amount as per that present currency exchange rates.
This point is slightly related to the above point as if you want to invest in United States stocks then you have to pay the brokerage charges in the US dollar.
The exchange rates of the United States are extremely high as per Indian rupees so if Indian rupees are converted into dollars it ultimately e becomes a higher Amount at the end you have to pay a more brokerage charge compared to what you pay in India.
Way To Invest In US/Foreign Stock Market from India
There are two options by which you can invest in US stock markets both have their benefits and limitations.
Mutual fund-Quick Way
You can invest through International Mutual funds in Foreign stock market for hassle free without any international trading account.
equity direct -Time taking
You can also invest directly into any particular stocks of the company without having mutual funds in between for this you have to open trading account.
Investing Through International Mutual Funds
There are a lot of benefits to investing through mutual funds. If you are a new person and just have some exposure to global markets. If you don't want to take all the risk of losing your hard-earned money then international mutual funds are the easiest way to invest in stocks listed on foreign stock exchanges.
So if you planned to invest through mutual funds I will recommend mutual funds Provider's link who deals in global investment. Global Mutual fund List by Moneycontrol
There are two type of mutual funds in which you can invest globally.
Fund of the fund (FOF) Mutual Fund: This is a mutual fund that holds mutual funds or ETFs of the country it is mandated to invest in.
Normal open-ended Mutual Fund: In this type of mutual there is a certain percentage of the portfolio that invests in global stocks. For ex. Parag Parikh Long Term Equity Mutual fund & Axis Growth Opportunities Fund.
Personally, Motilal Oswal S&P Index Mutual fund helps me invest in a US company through SIP. Parag Parikh Long Term Equity Mutual fund is also a good choice for Global international mutual funds Investing. Even you don't need any type of account & you can invest from your mutual fund platform.
Investing through mutual funds in foreign stocks is very cheap as compared to investing through direct equity. In direct equity, you have to open a trading account & maintain the threshold amount at least but there is no such "at least" or threshold amount condition in mutual funds.
So if you are a beginner and want to invest in big companies like in the USA then a mutual fund is the best option to go with not even globally but also in India itself.
Investing Directly into Stocks of Foreign Countries
So finally if you planed for directly investing in shares of foreign countries or you can say United State companies then here are the three easy ways that you can choose from.
Indian Stock Broker Offering Foreign Trading
Sign Up with an Indian Broker who deals with Foreign Broker:

So, the very first easiest method to Invest in the Indian stock market is opening an account with Indian brokers who having a relation or are tied up with the US/foreign brokers.

The very famous name in this method is ICICI direct, HDFC securities, Kotak securities, Axis securities, Reliance money and many more but they charge slightly higher transaction charges(such as wire and FX conversion fees).

In India, Upstox & Zerodha is one of the top most discount brokers to start foreign global investment. Currently, 5paisa offers zero-commission investment in Global Market.


Notice: Undefined index: score in /home/u662305827/domains/paisowala.com/public_html/wp-content/plugins/rehub-framework/gutenberg/blocks/class-offerlisting.php on line 131

5paisa

Discount broker offering gloabl investment
Invest in US Stock Market with Zero Commission
5paisa partnered with Vested to provide Zero Commission investing in the US markets for all our customers. You just need to open demat account with 5paisa & just need to Link your Vested Account with 5paisa to Experience the smooth way of investing in Global Market with advanced technology.
They all have a tie-up with the foreign or United States brokers and will help you to achieve your goal of investing in the foreign market.
Investing Through Modern Startups by Apps or Websites
To deal with the situation like many of us in India, who want to buy stocks outside India new startups are coming up and they are providing this facility that you can easily bring shares of foreign companies.
One of the very famous from this is list is Webull you may definitely hear of this name. They are investing a lot in advertisement and they are also getting some popularity as there new or you can say sort of unique idea for solving problems off investing from India to foreign stock markets.
Another such startup that was launched very recently is Vested finance its business model is also the same as Webull they provide the solution to you willing investors of India want to invest in US stock markets.
Investing from India via any platform is very costly still vested has better pricing if you do high-value transactions.
Directly Join with US/Foreign Broker
Opening Trading Account With US Based Broker
So the last but not the least option to invest in the foreign stock market is directly dealing with foreign brokers as there is no Indian firm in between so it is the cheapest method today in the United States for foreign stocks.
There are some more foreign traders where you can open your account and Deal in foreign stocks I am giving their links below so check it out and find which one is better for you.
Some of the good reputed foreign investors also have their branches in India itself like "Interactive brokers" they have an office in India that it can be easily accessible by any interested investors and they will answer your old queries and will definitely open an overseas trading account for you.
Conclusion
So as I told you earlier in the article it is not hard to invest in the foreign stock market it is as easy as investing in the Indian stock market but there are some cost issues.
You have to pay some extra amount as you are investing in foreign markets and as per exchange rates of Indian currency with the country of which you are going to buy stocks.
Everyone imagine someday that how good to have stock or shares of Apple, Google, Microsoft, Tesla, Facebook or any of your favorite international companies in your portfolio.
At last, I want to suggest you first look at Indian companies to invest in they are also booming and In future, some of the Indian companies will definitely give competition to foreign countries or even going to beat them so look at your own country first then try to be an investor of the foreign country.
Thanking you for reading the full article, I used some technical jargon words so if you have any doubt about investing in foreign stocks market then try to discuss in the Comments.