Alice Blue Account Opening Process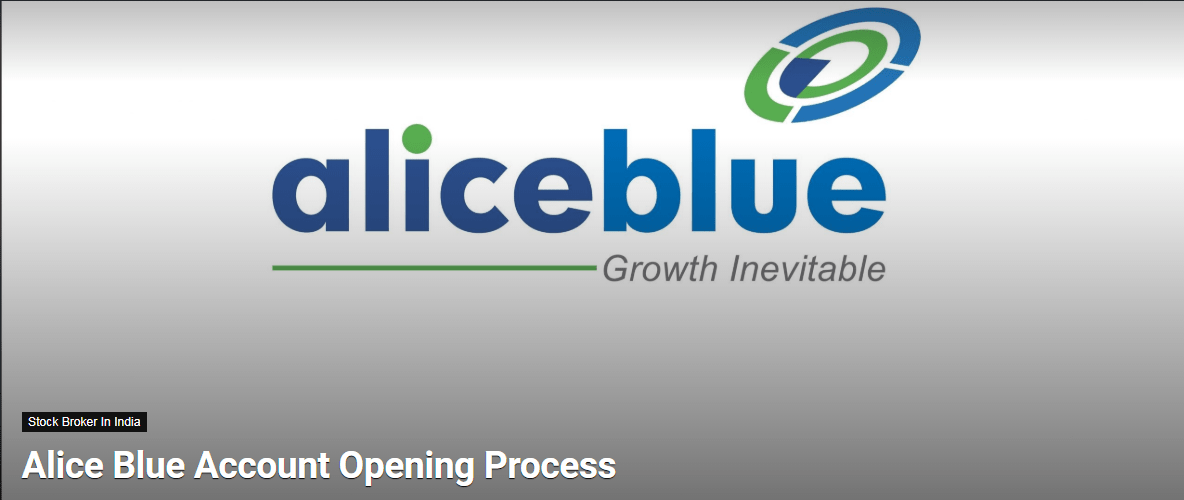 In this article, we'll cover Alice Blue account opening online & offline process. So, You can create a demat & Trading account yourself with Alice Blue.
Alice Blue is Chennai based discount stockbroker offering stock and commodity trading services at BSE, NSE, and MCX. They are known for providing high margin at low brokerage charges.
Before we proceed, Please make sure that you have all of these prerequisites for account opening as mentioned below.
Documents for Alice Blue Account Opening
You will have to provide all of your documents. If you opt for online Alice Blue account opening preferably it would be best if you would have these documetns in their JPEG or .jpg format. Make sure to upload clear photos of all of your documents.
PAN Card
Address Proof (Aadhar Card, Voter ID, etc)
Passport size photo
Bank Proof (Cancelled Cheque, Passbook copy with name, IFSC mentioned)
Income Proof (6 months bank statement / Latest ITR / Salary Slip)
IPV (You have to take a selfie while you're holding your PAN Card or your other Aadhar Card)
Client Specimen signature
Alice Blue Account Opening Charges
Alice Blue charges Rs. 500 for opening account in Equity, Currency & Commodity Segments. You'll have to select a payment method whichever you are comfortable with either your card, net banking, wallet or by your UPI.

Alice Blue Review Alice blue broker was incorporated in 2006 and has established its reputation as a discount broker offering various ...
Segment Wise Broekerage
| | |
| --- | --- |
| Currency Futures Brokerage | 0.01% or ₹ 20/executed order (whichever is lower) |
| Currency Option Brokerage | Rs. 10 per lot |
| Equity Delivery Brokerage | |
| Equity Future Brokerage | 0.01% or ₹ 20/executed order (whichever is lower) |
| Equity Intraday Brokerage | 0.01% or ₹ 20/executed order (whichever is lower) |
| Equity Option Brokerage | ₹ 20/ executed order |
Account Charges
| | |
| --- | --- |
| Offline Order Placing Charge | ₹ 20 |
| Tips & Research | No |
Specification
Alice Blue Online Account Opening
First you have to go the aliceblueonline.com website. Once you're in website you can select the button which says open an account after clicking this button it'll lead you to sign up page & here you'll have to start filling account opening form.
Alice Blue Account Opening

First, You need to visit Alice Blue Account Opening Signup Page, Then you have to fill in details like your name, email ID, mobile number & state. Then you can click the open an account it'll lead you to this next page.

PAN KRA Verification

Next, you'll have to enter your PAN Number & your date of birth once you're filling that up then click the validate button it'll lead you to the next page where you have to fill your mother's name.

Choose Demat Alice Blue Account Opening Brokerage Fee

Then you have to select the segments that you are interested in. Next, you have Alice blue brokerage plans options to choose from. You can scroll down and see the other brokerage plans first you can click on the proceed button next after choosing the brokerage plan.

Pay Alice Blue Account Opening Charges

Now you have to process for account opening charges payment. You have to verify the phone number and your email id. Next, you'll have to select a payment method whichever you are comfortable with.

Verify Bank Details

Provide your bank details which you want to map under the Alice Blue Account. So enter your bank account number and the IFSC code for your bank branch after you do that you'll have to verify.

Fill-Up Personal Details

You'll have to fill in your gender, education qualifications, Your father's & mother's name, marital status and once you're done with that select the financial details button here and this will give you some more details that need to be filled as per the E-KYC norms.

Upload Alice Blue Account Opening Documents

You'll have to upload here all documents required for account opening with Alice blue. after that, you'll have to check in the terms and conditions box to select the green button which says Done.

E-Sign Alice Blue Account Opening Form

This is the final step to complete the account opening process with Alice blue. You'll just have to select the Esign services that you would prefer. Once you click this button you can sign your application digitally so you will they will send you a security code to the number that you have given please enter the security code and submit so this is the process for creating your demat & Trading account with Alice Blue.
Now backend offices of the Alice blue will take over the process and complete it for you and you will be intimated when it has been activated.

Alice Blue Account Opening
Alice Blue Offline Account Opening
The online account opening flow involves aadhar based esign. If you can't be able to open an account through online mode, you could opt for offline mode. For this you have to download account opening form directly from the download section of Alice Blue website.
You have to fill these account opening forms & Physically sign them, attached required documents. Then you need to courier it to Alice Blue office address as mentioned below.
Alice Blue Head Office
No.85/2, 3rd Floor, Royal Building
Sathy Road, Erode – 638003. Tamil Nadu
Phone: 0424 2220124, 4021124
Now if you're having any issues or queries you can go to this form here at the for request callback you can fill in your details and Alice blue professional will call you and help you through the process while any queries you have it will be promptly cleared.
Alice Blue Account Opening Status
It usually take up to 1-2 working days to activate your Alice Blue account when you submit account opening application (online or offline).
The below mentioned time is effective, once your KYC verified successfully. In the case of KYC Rejection, it may cause a delay in the Account Activation process.
NSE, BSE cash: 72 hours
MCX: 24 hours
NSE FNO, Currency: 24 hours
You can track your online application through the KYC tracker for account opening. Just enter the PAN number or client ID to view the status.
In case you need further assistance, please call customer support 08061575500 or email at askus@aliceblueindia.com.
What's next after Alice Blue Account Opening?
Once your account is opened with alice blue. You can login to your Alice blue trading account. Direct link to login Alice blue account.
Even you can also download Alice blue ant mobile app over your mobile phone on android/iOS to start trading/investing in stock market. If you need more information about Alice Blue you can read review Read more.
FAQ (Frequently Asked Questions)
How to do IPV in Alice Blue?

IPV verification can be done taking selfies in which you are holding your pan card or your other aadhar card next is your face. The allowed extension for these photos will be in jpg or PNG format so please make sure that your photos are JPG or PNG files.

How to close alice blue account?

If you wish to close your account with Alice blue, you would have to fill out the account closure form & courier it to the following address:
Alice Blue Financial Services Pvt Ltd
No. 153/2, 3rd Floor, M.R.B.Arcade, Bagalur Main Road, Dwaraka Nagar, Yelahanka, Bengaluru – 560063

Is alice blue safe?

Yes, Alice Blue is considered safe because it is registered & regulated by the Securities and Exchange Board of India (SEBI).

How long will take to add fund in Alice blue?

NEFT payment takes longer than 24 hours to reflect in the account. If you opt for UPI, Net banking funds are credited instantly.

Is POA is required to open account with Alice Blue?

No, You don't need to send POA physically as Alice Blue offers fully paperless online account opening. You can directly sell your shares from demat online without having to courier the POA form.