Edelweiss Demat Account Opening Process (Step By Step Guide)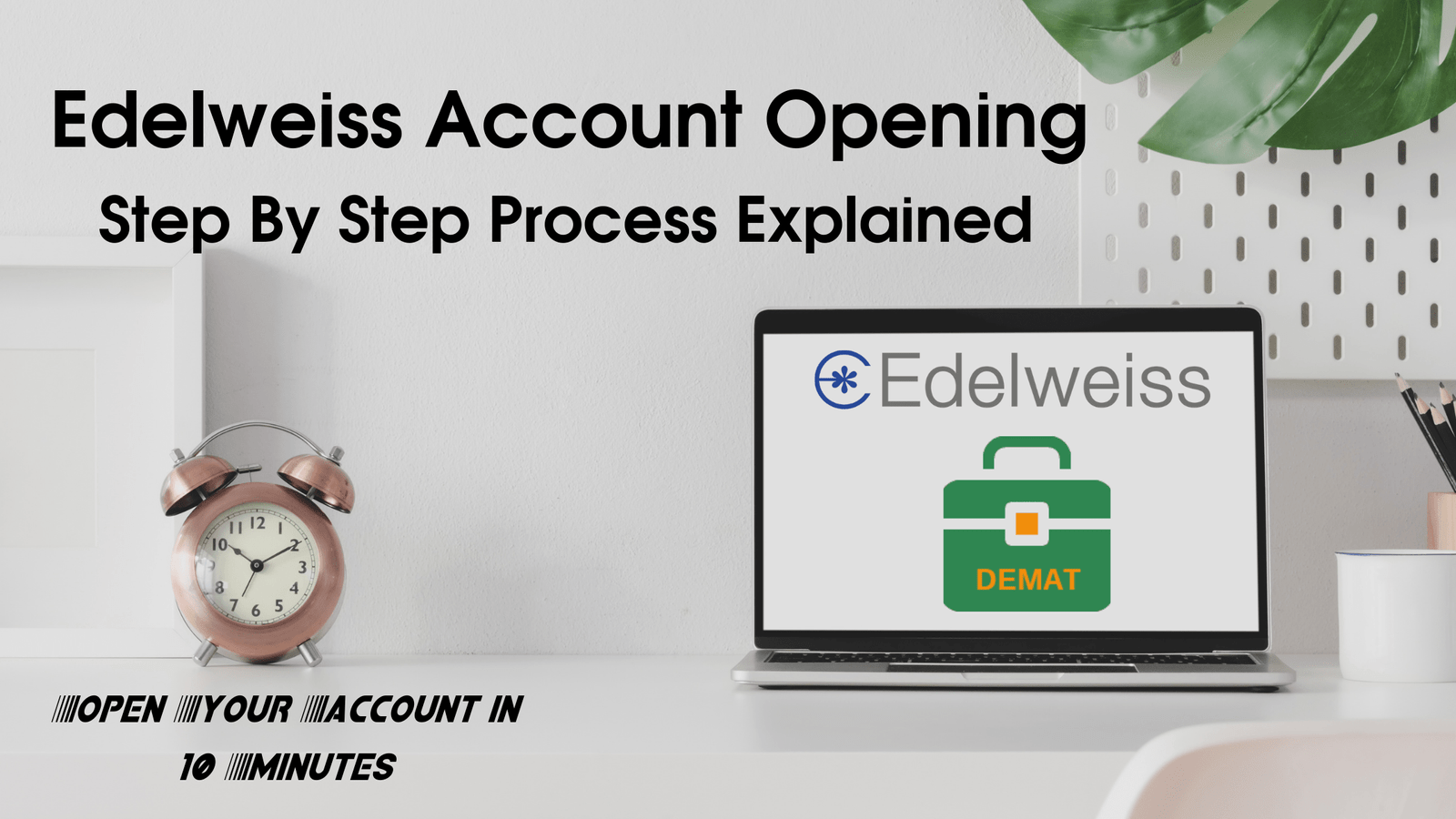 In this article, you'll get to know about the step by step process for the Edelweiss demat account opening. As far as the Edelweiss demat account opening process is concerned, this can be done just by following few steps from this laptop or mobile from which you are reading this article.
Edelweiss Broker is a leading financial service provider in India. They have a strong presence across domestic and international geographies. The company has 475 offices spread across 200 locations. It caters to a diversified client base consisting of individuals, institutions and corporations.
All resident Indians and NRIs residing in Australia, New Zealand, GCC countries (Gulf Countries), Hong Kong, Singapore, and the UK are eligible to open an account with Edelweiss.
Edelweiss offers a range of financial services to its customers. Edelweiss demat account allows you to invest in Equities, Derivatives, Currency Derivatives, Mutual Funds, Gold ETFs and Bonds. At the time of account opening, you will be asked to opt for your desired segments. However, you can activate your access to other segments later by contacting your Relationship Manager or visiting the nearest Branch.
Brokerage
Platform
Margin
Costumer Support
Reliability
+ Positives:
Free research provided by Edelweiss is one of the best offering in the brokerage industry in India. This includes both fundamental calls and technical calls.
Excellent mobile application, website & desktop trading software for trading. They are easy to understand, rich with advanced features and tools, you can expect tips, reports, data, news etc. in one place.
Call & trade is available for free to all clients
Well-diversified financial product portfolio.
It provides leverage facilities across cash, F&O and CDS segments
Wide offline presence through branch and franchises makes it easy for customers. Online trading tools make it easy for online investors and traders.
Relationship managers and add-on services like PMS are available.
It doesn't charge any hidden fee
- Negatives:
Doesn't offer 3-in-1 account as Edelweiss doesn't have a banking license.
F&O brokerage is charged at per lot basis. This could be significantly high in case of large orders when compare with the discount brokers (i.e. Zerodha) who change flat fee per executed order (irrespective to the number of lots in an order).
Edelweiss Account Opening is a very simple process and in this detailed article, we will be looking at all the steps involved.
Edelweiss Demat Account Opening Documents
Following self-attested documents are required to open an account with edelweiss:
Proof of Identity- PAN Card (Mandatory Id proof)/ Aadhar Card/ Driving Licence/Passport/Voter Id
Proof of Residence- Aadhar Card/ Driving Licence/ Passport/ Voter Id etc.
Bank Account Details- Personalised signed cancel cheque or last 3 months Bank Statement or updated Passbook.
One passport size photograph.
Edelweiss Demant Account Opening Charges
It's free! Edelweiss doesn't levy any charges to open an account regardless of whether you open an account with edelweiss online or offline.
Edelweiss Demat Account Opening Process
First and foremost, step is is to visit Edelweiss Website by clicking here & then you need to follow these steps to open an account in Edelweiss. Click here to Signup for Edelweiss
Apply for Edelweiss Demat & Trading Account in 15 minutes
Fill Name, Email Id and Mobile number

You need to provide basic personal Details as your Email Id, Password & Mobile number make sure whatever details are entered here are valid then click on Continue to Signup.

Enter PAN and DOB Details

PAN Card is a mandatory document to open a demat & trading account with any stockbroker.


Fetching Aadhar from Digi locker

You first have to log in to Digilocker account or if you don't have an account created with Digilocker please first create an account with Digi locker.

Access to Digilocker

You can create a Digi locker account just by sending an OTP (one-time-password) to your Aadhar registered mobile number followed by creating a username & password for your DigiLocker account.

Select & Share Aadhar card with Edelweiss

After this, you can voluntarily share your Aadhar (issued by UIDAI) with Edelweiss.


Fill Basic Profile Details

You will be required to provide personal details related to your political, social and professional backgrounds which can't be fetched from Aadhar.

Enter Bank Details for Edelweiss Demat Account Opening

You need to provide bank details which you will link with your trading for adding & withdrawal funds from your Edelweiss account.


Choosing Edelweiss Demat Account Brokerage Plan

Now you have to choose a brokerage plan as per your trading needs.


Video IPV – OTP and PAN Verification

Now you have to perform IPV (In-Person Verification) online. The first is for OTP verification for mobile no verification & the other one is for PAN Card verification.

Document uploading

Now after that, you have to upload the required documents for the Edelweiss account opening. E-sign option will be enabled after the completion of QC activity.

Edelweiss Demat Account Opening E-sign Documents

Now you have E-sign the documents you just need to Enter Aadhar number an OTP will be forwarded on aadhar registered mobile number. After verification, the client can download the E-signed document.

Schedule POA appointment

You just need to schedule an appointment for Documents (POA) pickup. One of the Edelweiss representatives will pick a form from your doorstep.
Now you are all done with the Edelweiss account opening process. Once the completed documents are received and verified by the company, your account is activated within 24 hours.
You will receive a welcome email once your account is opened. The email will also contain the credentials and instructions to log in to your account.
10 Reasons to Consider Demat Edelweiss Demat Account Opening
Online Account Opening process.
Zero Account opening charges.
Free AMC for 1st year.
Direct deposit of dividends, interest, etc. in your demat account.
Facility to manage your account online.
475 branch offices to get assistance on matters related to the demat account.
A single account to invest in Equity, MFs, ETFs, Bonds & Insurance, etc.
Trade-in multiple exchanges including BSE, NSE, and MSE.
Facility to freeze the account.
Free investment advisory from the research team.


Not to worry though, We have already posted a detailed review on edelweiss where we went over Edelweiss' platforms, plans and the margins in-depth, to help you decide if Edelweiss is the right brokerage for you and weigh out the pros and cons. By the end, I hope to impart the reader with a good overview of Edelweiss offerings and where they stand, what they do right and what could be better.
Check Edelweiss Demat Account Opening Status
In case of a delay, please get in touch with the customer support team via call/email to know the status of the company. The online account can be opened instantly if you are KYC compliant. In other cases, the account is opened within 24 hours of receiving the complete documents.