Flyers Account Opening is very similar to opening a Demat & Trading account with any broker. You can open an account in FYERS in two ways either online through (aadhar e-sign) or offline method.
FYERS is a discount broker & known for its trading platform. They charge flat brokerage along with that they offer free account opening. They charge only 20 per executed order or 0.01% (whichever is lower) & Free delivery trades. Those who are into the stock market looking for the best trading platform can open their account with FYERS.
If you are good at understanding & following instructions, then you do not need to go through this entire post. You just need to visit the FYERS account opening page (Click here), & follow the directions, upload all required documents & your account will be opened.
Now let's understand what are the requirements for Fyers account opening process
Required Documents for Fyers Account Opening
You need to provide the following documents for FYERS account opening:
PAN Card (Mandatory)
ID Proof: Voter ID, Aadhar card
Address Proof: Passport, Aadhar Card, Driving License
Passport-size photographs
Canceled Cheque
Fyers Account Opening Charges
With effect from 1st April 2020, Fyers has introduced the following charges for account opening & AMC:
Fyers Demat & Trading Account Charge: ₹400/-
Demat Account Maintenance Charges: ₹300/-
If you are Existing clients that have opened accounts with Fyers on or before 31st March 2020 will not be affected and will continue with Zero AMC. AMC charges will be debited from your Trading Account Ledger on a quarterly basis. Each quarter, you will be charges amount of ₹75 + GST (₹88.5) from your FYERS account.

Fyers is a discount brokerage firm driven by a group of young passionate entrepreneur know for its world-class charting solution & faster order ...
Segment Wise Broekerage
| | |
| --- | --- |
| Equity Delivery Brokerage | |
| Equity Future Brokerage | 0.01% or ₹ 20/executed order (whichever is lower) |
| Equity Intraday Brokerage | 0.01% or ₹ 20/executed order (whichever is lower) |
| Equity Option Brokerage | ₹ 20/ executed order |
Account Charges
| | |
| --- | --- |
| Offline Order Placing Charge | ₹ 20 |
| Tips & Research | No |
Specification
You just need to follow the process until step 11 in case of the offline process & if you want to open an online account then you follow the procedure till last.
Fyers Account Opening Online
Just visit the FYERS website and follow the step by step process for online & offline account opening.
Estimated time for FYERS account opening is 15 minutes
Online Fyers Account Opening
First, you need to visit the fyers demat account opening page click here. You need to enter your Name, Email, Mobile Number & then click on Generate OTP. Now you need to Enter OTP sent on your email id & mobile number & click on the submit button.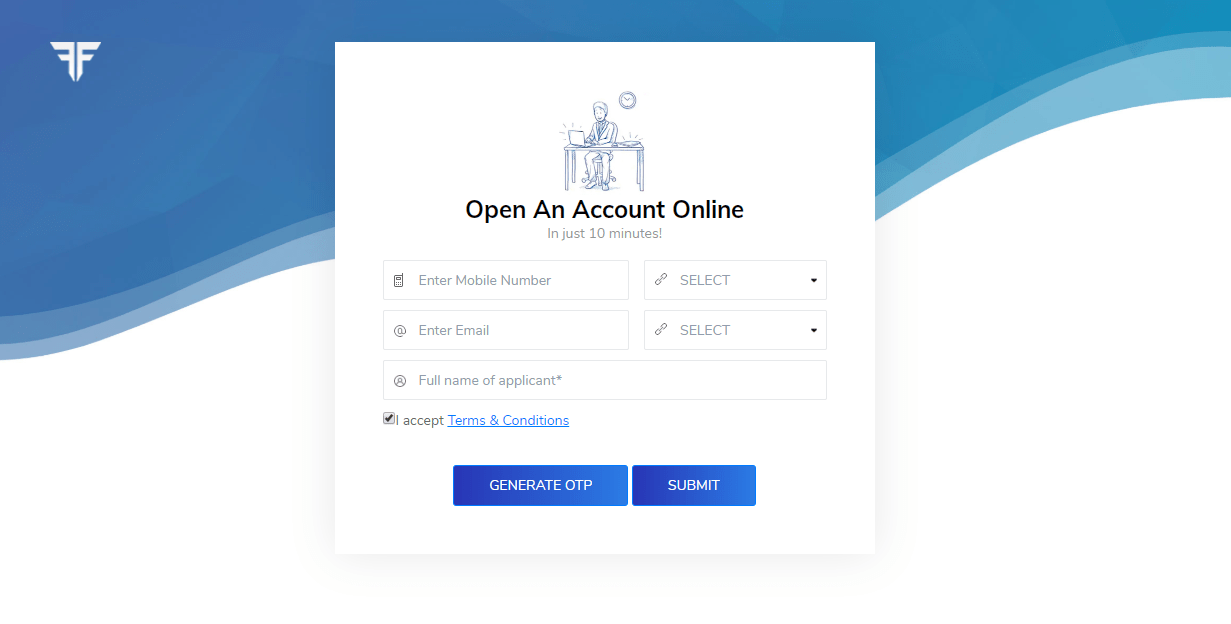 Enter PAN Card Details
You have to enter your PAN Card No & Date of Birth. After filling the details click on SAVE AND CONTINUE. You don't need need to click on VIEW KRA DATA.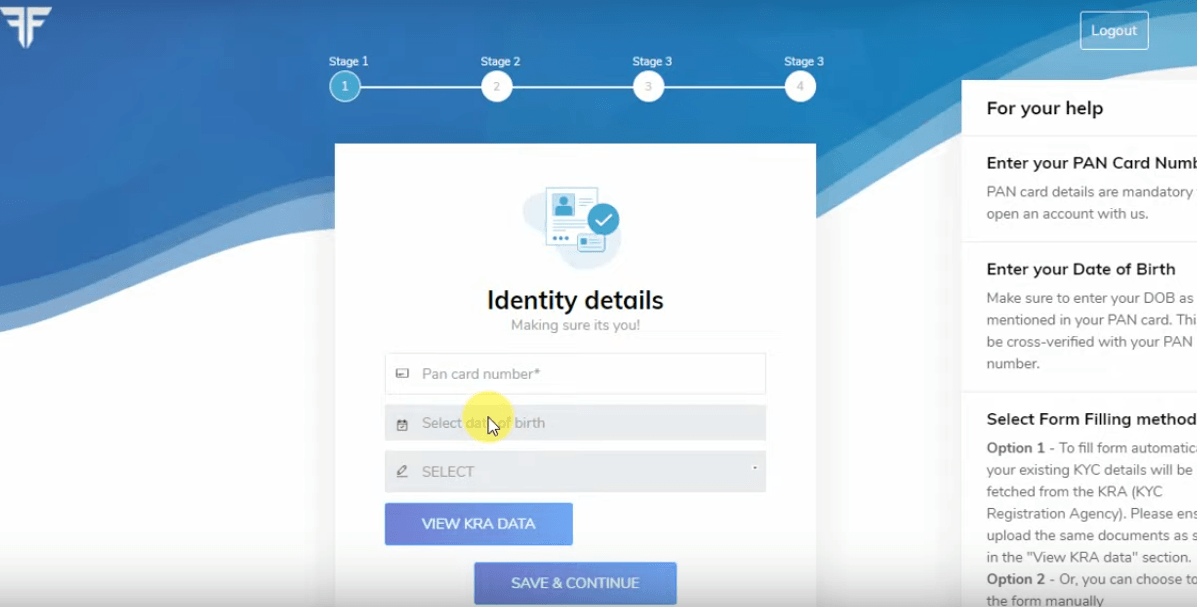 Enter Personal Details
Now your name & father's name will be automatically fetched from PAN card KRA details. Select your salutation (Mr/Mrs/Ms) according to your gender (Male/Female/Others) & Marital Status (Single/Married/Widow) from the drop-down box on the left side of your name. Then you need to enter your Mother's Name.

Filing Up Address Details
On the next page, you now have to enter your correspondence address. You can fill these details as per your Aadhaar details. In address type drop-down box, select RESIDENTIAL & Fill up House No, Road Name and Taluka. After filling pin-code number; city, district, state name will be filled automatically fetched.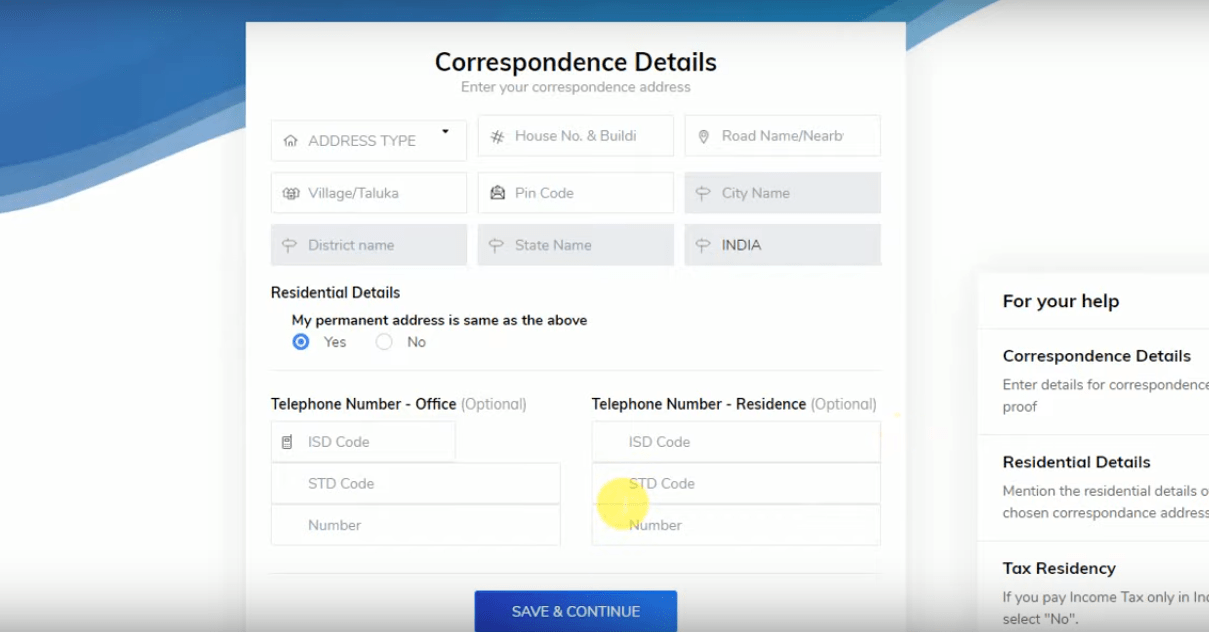 Choose Trading Segments
Now you can choose trading segments as per your requirements. It's recommended to activate all segments in on go because you never know when you gonna need it. You will be able to transact in all the segments namely Equity, Equity F&O, Currency F&O & Commodity F&O segments.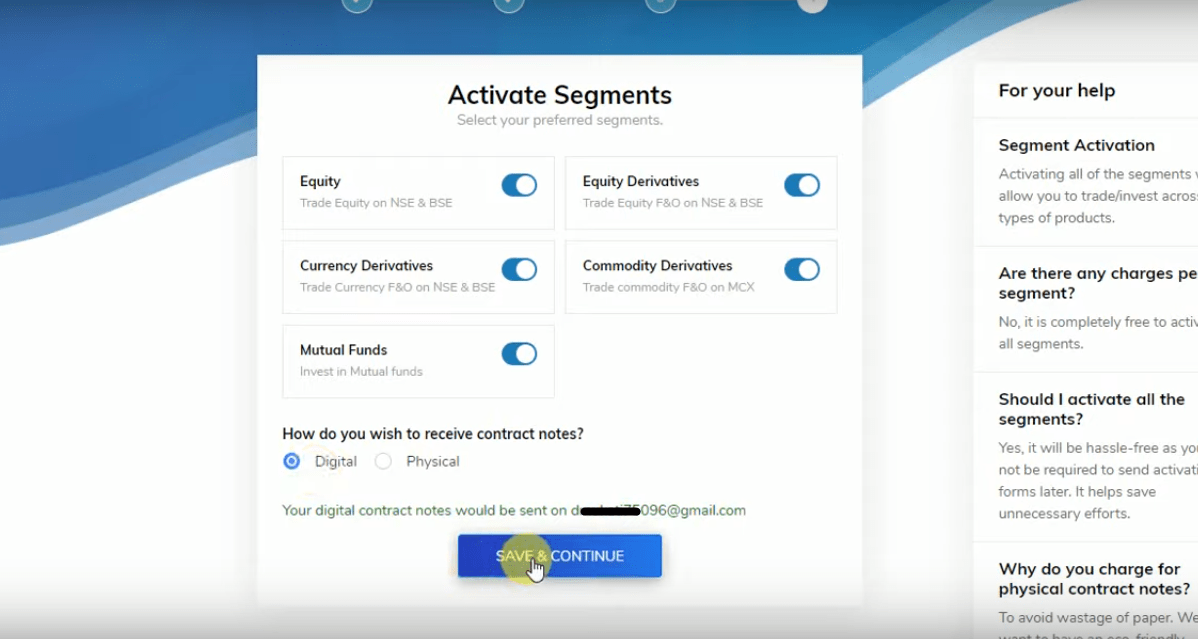 Demat Account Details
Now you need to provide your demat details. It's recommended to choose NO even if you already have a demat account with another broker as this will help you in hassle-free settlement of shares.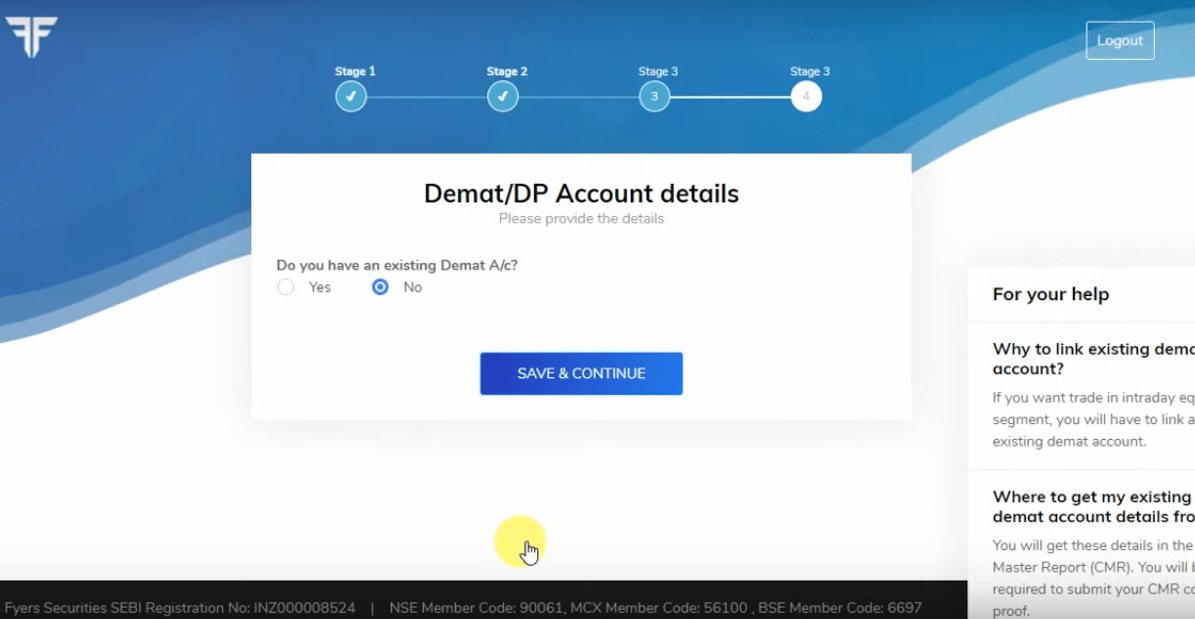 Enter Bank Details
On this page, you need to A/C number & enter your IFSC Code, MICR Code, after that your Bank & Branch Name with address will be automatically fetched. This account will be used to transfer funds to your trading account.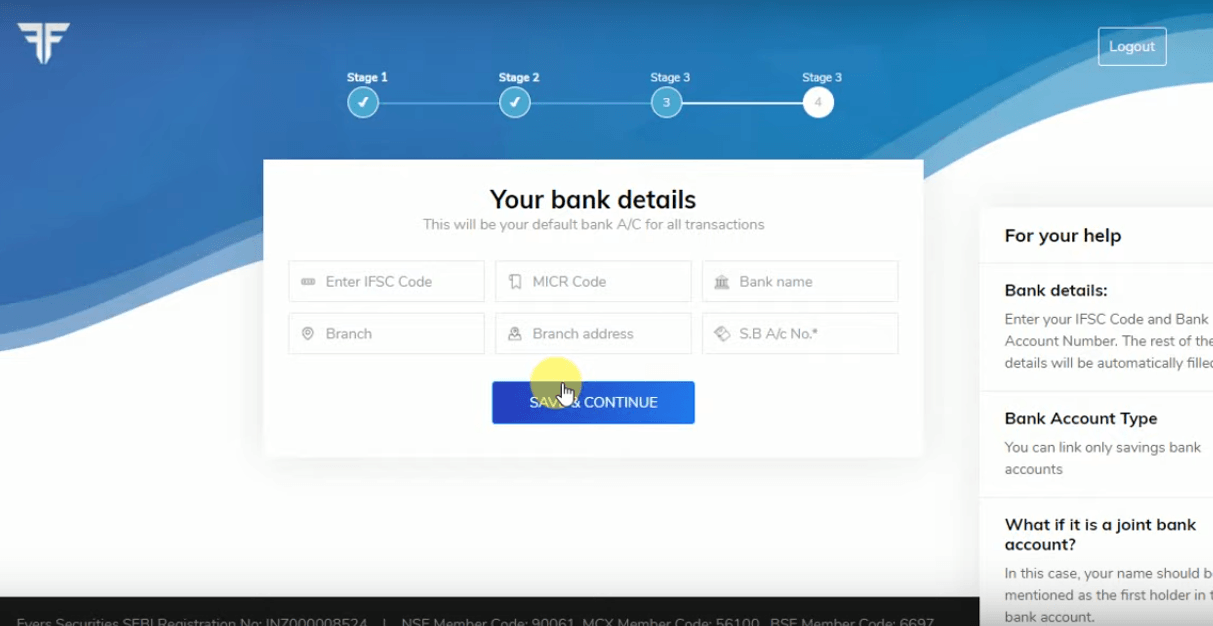 Fill Personal Details
On the next page from drop boxes, you have to choose your Occupation, Education & Income Details & trading experience in years.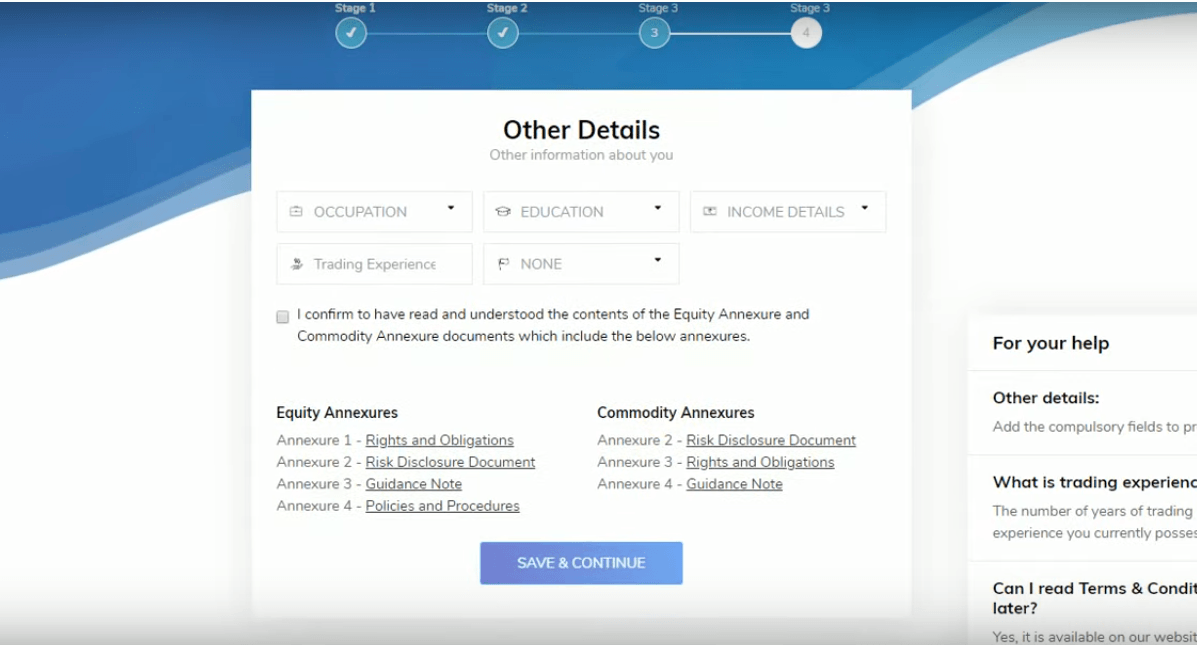 Upload Documents for Fyers Account Opening Process
Now you will have to upload a scanned copy of the required documents in pdf/jpeg/png format.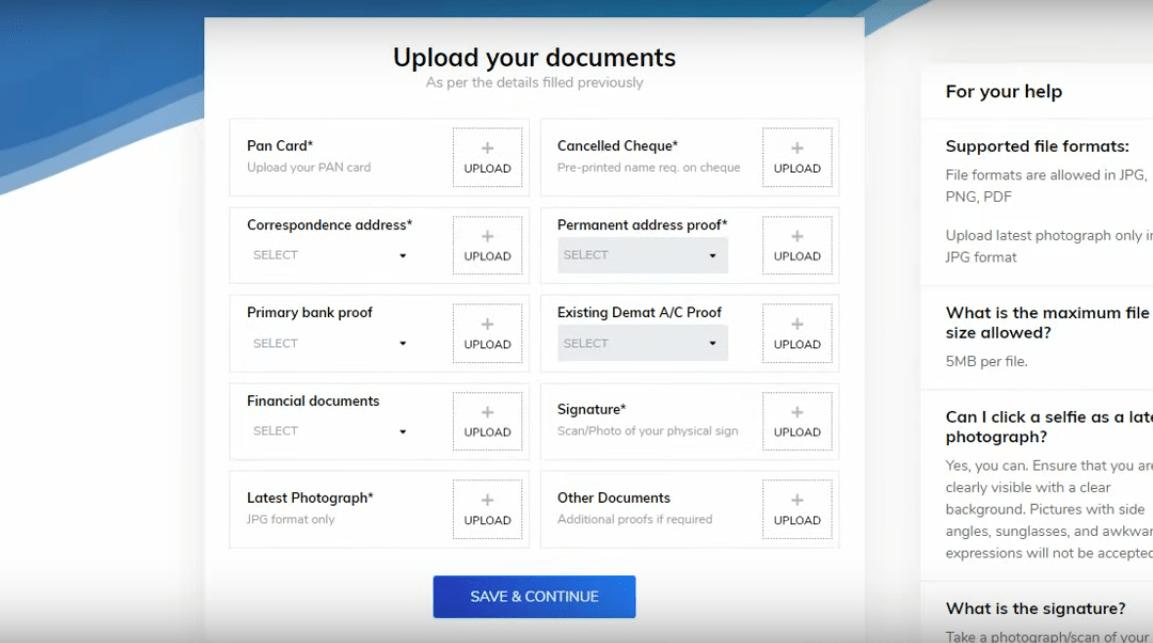 Brokerage Plan Details
On the next page, you will be shown the Fyers brokerage plan. You need to Tick on "I accept the terms and conditions" and then click SUBMIT.

Download Fyers Account Opening Process Form
Now on the next page, a pop-up will be shown in the image stated that they will send the documents to your email for e-signing. Click on OK.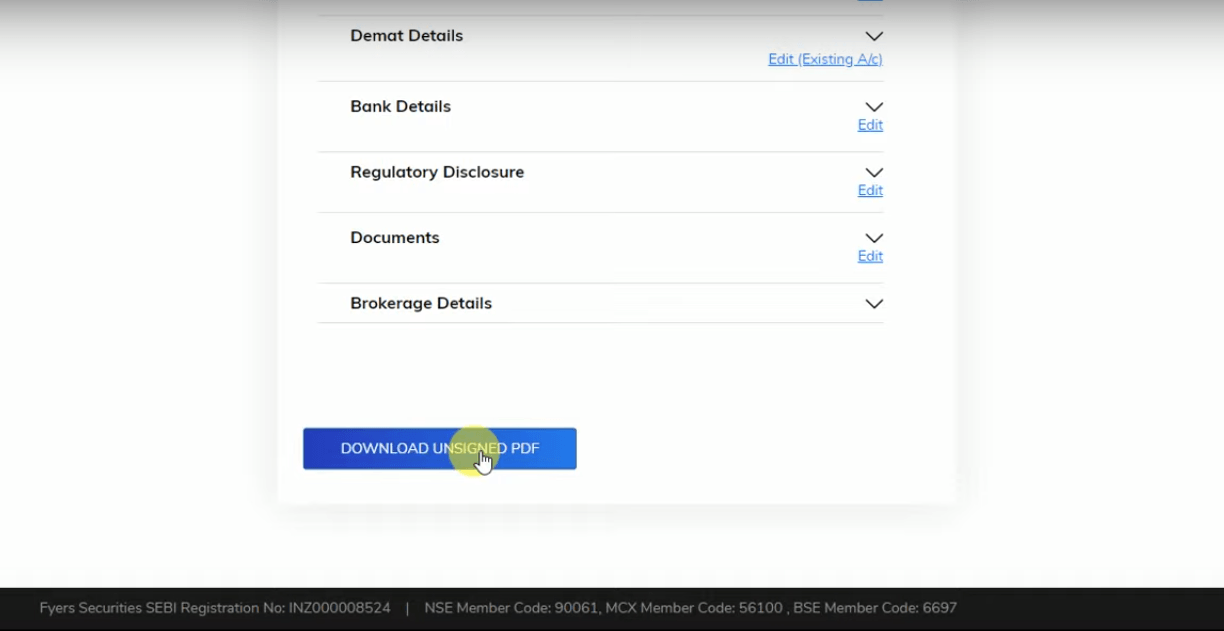 Fyers Account Opening (E-signing through Aadhar)
Online account opening enables you to sign the application form digitally using Aadhar OTPs. You will be allowed to transact in all the segments. If you have a mobile number registered with aadhar card. You can opt for online account opening.
Just after completing step 11 you will receive a mail from Fyers for online account opening then Click on E-Sign Now you will be redirected to a page like where your details will be pre-filled. You just need to tick on "I authorize Fyers Securities to e-Sign my E-KYC form" an then click on E-SIGN.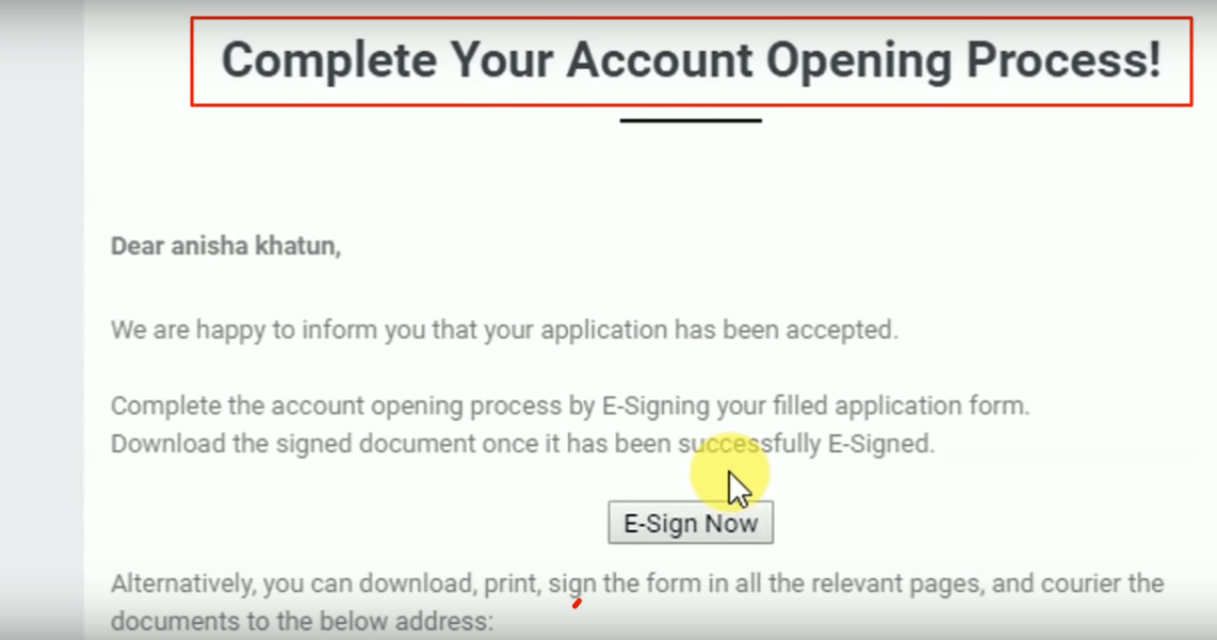 OTP Verification
You have to enter the OTP that you will receive on your mobile. Then click on Submit. You will be redirected to the NSDL page to e-sign your account opening page. Just need to Enter your Aadhaar No & you need to click on Request OTP. Enter that OTP and then click on the Submit button.

E-Signing Fyers Account Opening Documents
A page similar to this will open where you can sign your all account opening document digitally through aadhar e-sign. Then click on Proceed to E-sign.
Now you are done with the online account opening process.
Courier POA to Fyers Headoffice
For new clients, who want to open a Trading + Demat accounts is online to the maximum possible extent. POA (Power of attorney) will be sent by email after your account has been approved successfully. However, you need to download then print, sign & courier the Power of Attorney (POA) couriered to the following address:
Fyers Securities Private Limited.
No. 77, Nandidurga Cross Road (Anjenaya Temple Cross) 
Jayamahal, Bangalore – 560046.
Along with that, you can submit nomination form If you want to nominate someone to your demat & trading account.
You have completed FYERS Online account procedure. Just after Sign Up you will get a call from the sales executive. If you need any help in between just get back to this step by step process for FYERS opening.
Offline Fyers Account Opening
In case, if your mobile no is not linked with Aadhar Card then you will not able to e-sign the document. In this case, you can opt for an offline account opening process. You have to follow above process till step 11 then you have click on DOWNLOAD UNSIGNED PDF & manually sign wherever it is written sign here & courier it to Fyers Headoffice mentioned below:
Fyers Securities Private Limited.
No. 77, Nandidurga Cross Road (Anjenaya Temple Cross),
Jayamahal, Bangalore – 560046.
You have completed the process for offline account opening.

Now you are done with the FYERS account opening process. Your Fyers account will get opened within 24-48 working hours after successful submission.