How to Become Sub broker with Stockbroker in India?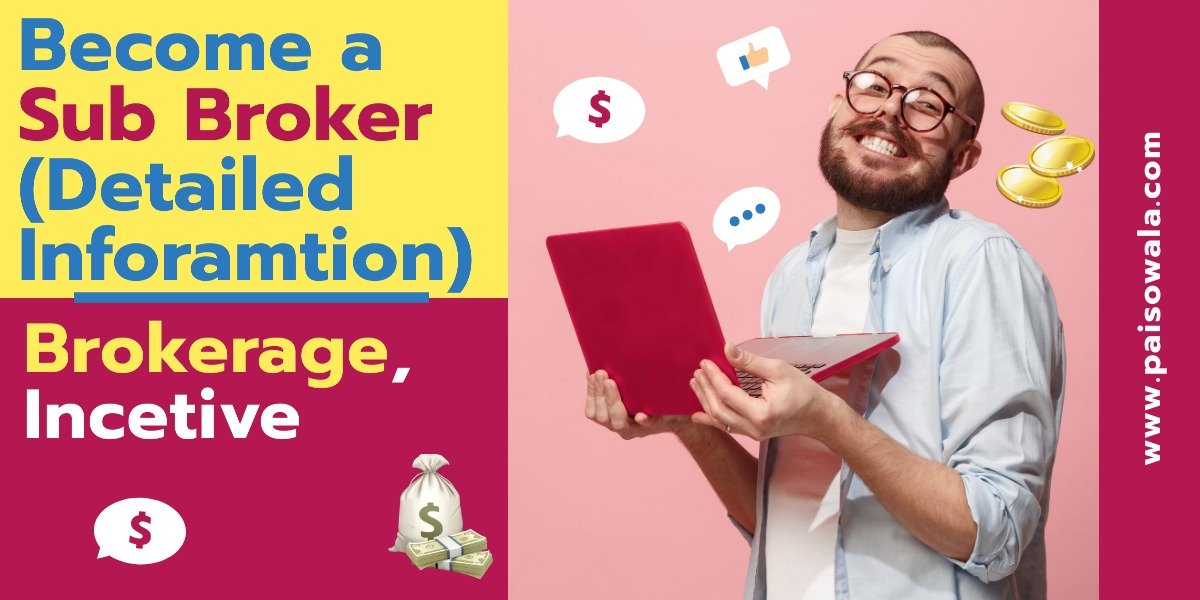 If Your interest lies in finance and the stock market. You take great pleasure in guiding others with investment options & finding the right broker. Then you can become sub broker with any stockbroker in India & can earn passive income.
Partner/ Sub Broker is eligible to refer prospective leads to Stock Broker for receiving referral benefits (Brokerage Sharing & Account Opening Incentives) in case such leads open accounts with the same contact information within the period they will be mapped under you.
Nowdays almost all stock broker have easy to use lead management & reporting tool where leads and referral earnings can be tracked. One standard brokerage applied towards all clients, and an easy to use technology platform which reduces support interactions with clients makes it ideal to become a Sub Broker.
Career As Sub Broker
Today, less than 2% of Indians actively invest in stock market-linked instruments. With an increase in awareness, falling fixed deposit rates, and less than expected performance in real estate, there is a huge untapped potential for an increase in investment inflows into financial assets.
With one of the highest GDP growth rates in the world and Indian companies growing at such a promising pace, We believe that more and more Indians should seize this opportunity and invest.
There are several benefits for a good source of income, You will get the advantages as:
Referral Incentive: You can even earn a one-time account opening incentive from the referrals on successful account opening.
Life Time Brokerage Sharing: You will earn a part of the brokerage, share of the brokerage from each trade your referred client makes.
Product Sales Earnings: You can also earn by providing value-added financial services such as Mutual Fund, FD, Research Subscriptions & other products to potential clients.
By engaging in continuous referral activities, an ongoing referral commission can be earned by Sub Broker/partner/introducer. Separate percentages of payouts are made towards the effort made by a sub-broker in converting leads.
Additional initiatives from the Government such as usage of Aadhaar for KYC and online account opening, advertisements for "Mutual Funds Sahi Hai", UPI for instant transfers, and advantages in taxation with respect to ELSS mutual funds & long term capital market instruments, is increasing the traction and awareness to invest in the markets.
ROLES & FUNCTIONS OF SUB-BROKERS
As a partner, you'll be tapping into this potential market and help spread the reach of capital markets across the nation!
Your responsibility As Sub Broker
Convincing people to open an account with your partner stockbroker and passing on the referral details to the stockbroker. You can generate your unique referral link and share it easily with your network. You can embed this link on your website and other social networking sites to generate more leads. Nothing else!
Stock Broker responsibilities
Just after passing leads to stock broker you don't have to do anything. Sales team of stock broker will do all pending work.
To collect documents
Doing KYC of clients
IPV
Other account opening procedures
Dealing
Customer support (Everything Included)
Everything else in the future.
How To Refer Client to Stock Broker
Sub-broker may have additional features due to the number of leads generated or converted by him/her.
To enter leads into the Partner Portal, you are required to enter the details of a prospective client name, contact number and email ID. This lead shall then be visible on the Partner Portal under the leads menu.
There are three ways an sub broker can enter leads into the Partner Portal:
Affiliate link: An affiliate link shall be provided to each sub-broker, which contains the sub broker Code on the link, and which will capture the sub-broker information automatically if the client registers through that link.
In case the account opening process is initiated with your affiliate link, such leads will be Directly Mapped under you.
Manual Entry: By entering it manually into the sub-brokers personal dashboard on the Partner Portal via his/her login.
Via APIs: Sub-broker may build their own website, frontend and user experience/interface, and by using Broker's APIs allow lead registration directly from these websites.
Once a lead is registered Stock Broker sales teams will contact the prospective client to open an account. Features and access controls on the dashboard provided are different for each sub-broker.
Brokerage Sharing & Incentives
The percentage of Brokerage Sharing payout/referral fee shall be agreed to between You and Stock Broker, which are subject to change from time to time.
The Main Factors considered towards determining Brokerage Sharing Slab Include:
The number & regularity of leads provided and converted into clients of Stock Broker by a sub-broker.
Whether pickup and assistance(offline/online) were done in filling & couriering the account opening forms.
Separate percentages of payouts are made towards the effort put in by a Partner in converting clients. Usually, it solely depends on the number & regularity of converting leads provided by you to the stockbroker.
Charges to become Sub Broker/ Partner
If the Stock Broker team is satisfied with the results of its enquiry, an enrollment form is required to be submitted by you apply for Sub-Brokership. This enrollment form includes all personal/incorporation details, and details required to process payouts such as the registered address, tax registration/PAN information and bank account details.
Post filing the enrollment form, an AP (Associate Partner) Registration – Rs. 3000/- per segment (inclusive of GST) is required to be paid towards Exchange Registration Fee. After completing the payment, the transaction reference number of the payment is required to become a Partner.
Access to Leads Tracking Tool
As soon as your Application is confirmed by Stock Broker as a Sub/Introducer/Partner / Authorised Person, You will get access to a lead management platform, [The "​Leads Tracking Tool​" or "​Partner Portal​"].
The Partner Portal usually has a dashboard and reporting tool to refer clients, track brokerage/revenue generated. Partner Dashboard also allows the sub-broker to see the status of their leads generated, referral fees earned by converting such leads, client mapping and any such other updates sent by Stock Broker from time to time.
Procedure to Become Sub-Broker/ Partner
Any resident individual or resident non-individual entity (including Partnership firm, LLP or Body Corporate) can become a Partner or Sub-Broker. The steps and rules around for becoming an Authorised Person are defined by the National Stock Exchange.
In order to display interest to become a sub-broker, You have to contact the stockbroker and fill up the enrollment form, by entering details such as full name, email ID, contact number, short introduction and location.
Stock Broker's team would get back to you with further enquiries which required to be conducted before accepting your request to become an Introducer/partner/sub-broker.