Upstox is prominent fastest growing discount broker after Zerodha which provide fully paperless (You even didn't need to courier POA-Power Of Attorney as you have to in most of the broker). In this article I'll explain how you can open an account in Upstox either online or offline.
If you want to know about anything about Upstox as account opening charges, Trading Platform, AMC, Brokerage & transaction fee, Check out- Upstox Review
Below I have mentioned all the required documents & account opening charges below. If you don't have these documents ready don't worry upstox allow you to upload documents & account opening charges later. We will be looking at all the steps involved, fisrt you just need to signup for Upstox Account Opening by Clicking here
Brokerage
Platform
Margin
Costumer Support
Reliability
+ Positives:
Fully digitized sign-up process
All exchanges in one platform
Most liked trading app with 4.4* rating
Precise and fast market data.
Zero Delivery Brokerage
Bracket order in MCX available
Free Mutual Fund Investment
Stable & reliable platform
Advanced Charting and Options Trading
Offers NRI trading
Upstox Account Opening Documents
1- Pan Card
2- Aadhar Card
3- Cancelled Cheque (Personalized) or Front Page of Passbook
4- Scanned Signature
5- Passport Photo
5- Bank statement last 3 month- for F&O segments (Optional)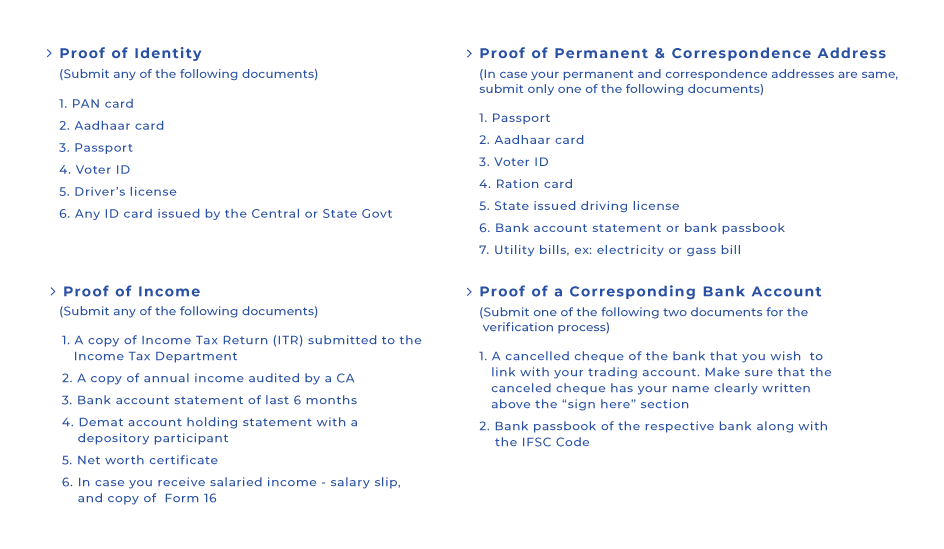 Upstox account opening charges
Demat & Trading account opening Charge (Equity & Currency): ₹ 300+GST
Commodity Account Opening Charge: ₹ 200+GST

10 Steps for Upstox Account Open
Open Upstox Account Online In 10 minutes.
You need to follow these 10 steps to open Upstox account. Upstox allows fully online account paperless account opening.

Signup For Account Opening



You need to Fill Basic Details as your Email Id, Password & Mobile No then click on Continue to Signup.

Enter PAN Card Details

You need to Enter PAN Card Details & Date Of Birth.



Enter KYC details

Now you need to fill required KYC details with Zerodha as Your mother's name, Gender, Political affiliation, Marital Status & Trading Experience & etc.


Pick Trading Segements


Now you need to select trading segment according to your need.



Pay Account Opening Charges

Now you can pay for account opening charges or skip this process as Upstox also allows pay later facility so account opening charges will directly debit when your account is opened. You can also apply for Promocode if there is any.



Select Brokerage Plan


If you want high margin you can choose Priority Plan Otherwise you can continue with Basic Plan. The brokerage rates are per trade for Intraday Equity, F&O, Currencies & Commodities or 0.01%, whichever is lower.




Upload Upstox Account Opening Documents

You need to upload all required documents for account opening as mentioned above. You can also skip the IPV process & continue.



Signing Form

Now you need to Sign account opening form, You have 2 options.
You can either sign digitally using aadhar in case of online account opening process. If you choose the first option for Aadhar E-Sign you can open your account instantly fully online.


If you don't want to opt for online you can choose offline case then you need to download the account opening form offline & take printout & courier physically signed documents to Upstox Headoffice.

Aadhar Esign

If you opt for Online Aadhar digitally sign, then Digio page will pop up for E-Signing. You will receive an OTP in you aadhar registered mobile no, now you need to enter it.
Now you need to E-Sign your Upstox account opening form through Aadhar separately for Equity & Commodity Segments.



Courier POA (Optional)

In Upstox you didn't need to send POA for account opening. Only in the case of transaction above 20 Lakh or you need to sell mutual fund then you need to submit otherwise it's not needed. You will recive ID & Password after scrutiny, Upstox account activation usually take even less than 24 working hours.


Now you are all done with the Upstox account opening process.
Cheers!