How to close the demat account?
Many investors and traders hold multiple demat accounts with different brokers depending upon needs.
Your stockbroker levy account maintenance charges every year for maintaining your demat account. It is always better to close a dormant account to save extra charges that would be levied for your demat account maintenance.
Read more: How to transfer share from one demat to another
There is numerous reason why you might want to close your demat account.
Customer services poor
Lack of service and features
This article will explain how you can close your demat account with any stockbroker in India to ensure a seamless transition.
Demat Account Closing Process WIth Stock Broker
Your DP(Broker) will provide you demat account closure form. You need to fill-up the form in the prescribed format. Then you need to sign the form before submitting it to the broker. If there are no dues outstanding, your broker will close your demat account.
Usually your demat account close within 5 days
Demat Account closure form
First, you have to get the demat account closure form directly by visiting the stockbroker branch or you can download it from the website of your stockbroker. We have listed direct links for the demat account closure form of all the popular stockbroker India.

Filling account opening form
Now you need to fill up the account closure form with all required details as:
B.O. ID (16 digits unique code) which includes your 8 digit DP ID and 8 digit client ID & other basic information. You can get all these details from the demat account back office login. Here is how the account closure form looks like: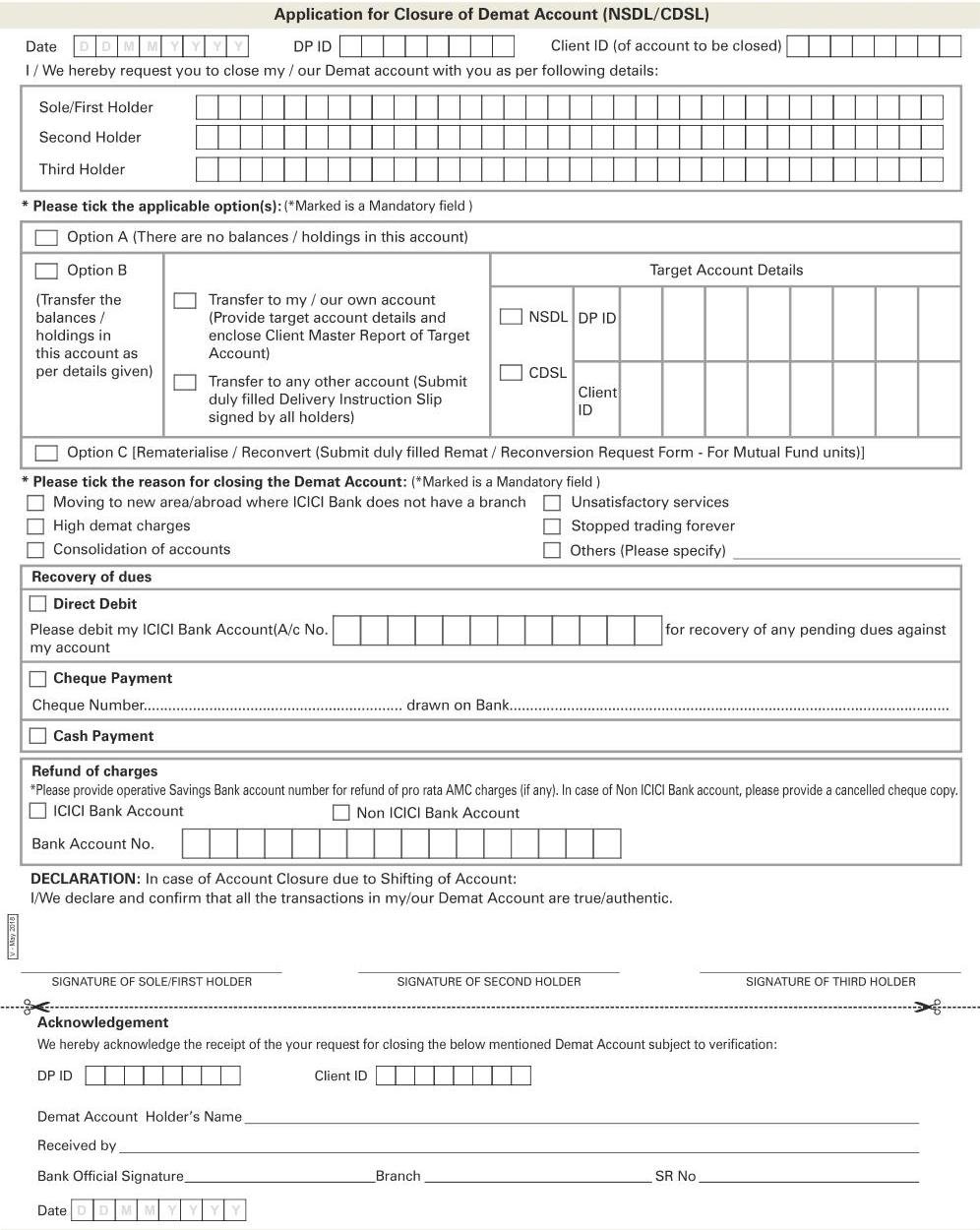 Holding Transfer Shares
At the time of filling the account closure form, you can transfer your holding to another demat account. You have to enter the target client id of a new demat account in which you want to transfer your holdings.
Clear all dues & funds
Before submitting the application make sure that there is a no due pending due balance, it must be settled before submitting the account closure request otherwise your request for demat account closure will get rejected.
Submitting account closure form
Once you are done with filling the DIS slip, Now you need to submit your account closure form to your stockbroker. Don't forget to take an acknowledgment slip of the filled account closure form.
Final Thought
Once the account closure application request is received by your broker, your stockbroker will transfer the remaining fund balance for your linked bank account. stockbroker doesn't charge for demat account closing.
After completion of this process, you will get intimation regarding demat & trading account closure over email/letter.
If the confirmation letter fails to reach you within 15 days, you may contact your local branch and follow up on the status.